What we do
We're Kognitos, and we have built an OS for cognition that elevates machines to understand and obey human language. We have built the world's most advanced combination of Generative AI and Logical execution that will empower most humans to innovate using computers without needing to learn how to program. Our mission is to bring humans out of the dark ages of extremely low computer literacy and herald a future of exponential innovation fueled by a democratic access to automation for all.
Customer centricity
The customer must succeed. Everything else is secondary.
Integrity
We uphold the highest standards of honesty and trustworthiness in every interaction.
Owner's Mentality
Every person at Kognitos, owns Kognitos, and does whatever it takes to get the job done.
Passion
Driven by passion, we make impossible things possible.
Empathy
We see the world from the eyes of customers, partners and colleagues. We put ourselves in their shoes.
Relentlessness
Failure is the stepping stone to success. We try harder each time until we succeed.
Speak your mind
We express our thoughts directly or openly, even if it may be blunt.
Humility
We value every perspective, fostering a culture where everyone's contributions are respected and recognized.
What would make you succeed at Kognitos?
If this is you, then you belong in our family, apply for a role that you like.
You're an entrepreneur, not just an employee
You're a Problem Solver
You're willing to give your 120%
 You're a Team Player
You know how to have fun
The perks
Working at Kognitos comes with great benefits
Collaborative environment
Join a dynamic and friendly team that thrives on collaboration and shared success.
Career Growth
Accelerate your career growth like nowhere else, with this dynamic team and training opportunities.
Competitive Salary
We value your contributions and offer a competitive salary and comprehensive benefits to reward your hard work.
Unparalleled Flexibility
Enjoy flexible hours that fit your schedule, when it comes to your working hours.
Innovative Culture
A culture that encourages creative thinking and problem solving.
Tech perks
We offer a stipend to spend on office tools – like noise-canceling headphones, a new computer, and monitors.
++ our epic yearly overseas offsite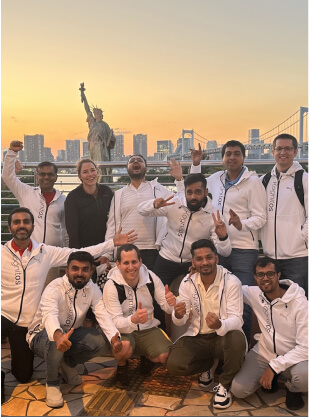 Hear from our people
"When I stepped into the Kognitos family, I was struck by how sharp and passionate everyone was. We're spread out, but our enthusiasm knows no bounds. Those late-night brainstorming chats, the jokes, the "aha!" moments – they've all been part of our journey to make machines truly understand the business language. At Kognitos, it's not just tech, it's about reimagining how businesses talk to machines."
Siddharth Agrawal
Engineer
Kognitos is the first time work hasn't felt like work. I used to be a recruiter and always wanted to move into sales. Kognitos gave me an opportunity and I've been loving every minute. From Binny's vision and leadership to the sales team's expertise, I'm so blessed and excited for Kognitos!

Tyler Erding
SDR
Kognitos is a melting pot of intelligence, imagination, curiosities and skills. And we're looking for humans who believe in working hard to innovate. Innovate to leverage the Power of AI, for the Betterment of Humanity.
If that is who you are, let's work together!

Christine Moore
Pre Sales, Engineer
Note: Kognitos is committed to fostering a diverse work environment and proud to be an equal opportunity employer. As we highly value diversity in our current and future employees, we do not discriminate (including in our hiring and promotion practices) on the basis of race, religion, color, national origin, gender, gender expression, sexual orientation, age, marital status, veteran status, disability status or any other characteristic protected by law.